Join me welcoming guest blogger, Shann Hall-LochmannVanBennekom
Our week of bonding started out with my husband and daughters reassuring me that everything would be just fine on our first all-girl vacation. However a mere four hours into the trip, my older daughter, Emily somehow managed to lock both set of keys in the trunk. There is no latch release inside the car, something Emily found hard to believe; after all she reasoned every car has a trunk release. But we got the bare bones model, no power locks and no way into the trunk without the key.
Thankfully a kind gentleman helped lift the seat and my younger, daughter, Lydia, managed to get her skinny arm in and feel around and grab the keys. I wanted to cry and turn around and go home; the girls thought it was hysterical and laughed so hard we had to wait until they calmed down to continue our journey south. The bonding part was going well.
The next major event happened at 80 miles per hour on a busy highway. Emily hit some debris in the road and the tire blew out. She managed to get the car safely off the road. We were the second car to have a blowout. The first car was 100 feet up the road. Thankfully, Emily and Lydia insisted we stay in the car until the police arrived to clear the debris from the road. Sure enough, a few minutes later, another car hit the same spot and barely missed crashing into us. I took the time to thank God for talented and smart daughters, as well as the guardian angel He assigned us.
The spare tire in place, we thought we could go to a nearby store, get the tire fixed, and be on our way. Unfortunately the tire wasn't just flat, the rim was bent. We would need an entire wheel. Unfortunately, it was early Sunday morning and nothing was opened. After trying several places we decided we might as well continue on. Most people told us not to drive more than 50 miles on the spare tire, but it turned out the bargain car had rims that are very difficult to attain. The tire had to be special ordered, we could stay put and miss our entire vacation or slowly move on towards Florida.
Believe it or not we traveled the remaining 500 miles on the spare and made the best of our time together. We are strong women and we can handle life. My girls have taught me that on this vacation.
I know now that every single day is full of stressful moments. We never know when something terrible can happen, so we need to live our lives the best way we know how and remember to thank God for our Guardian Angel.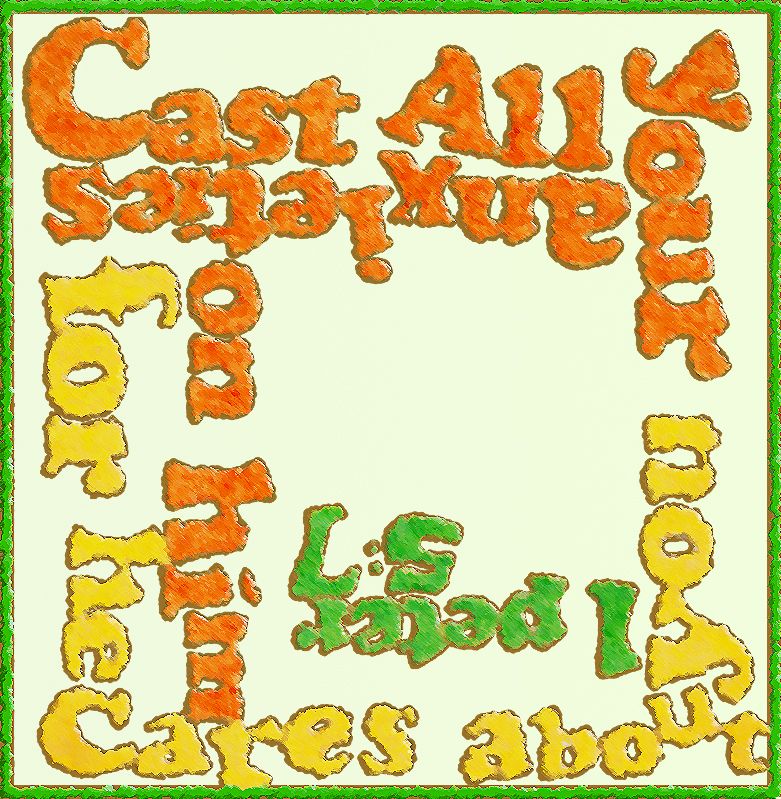 Later in that week Emily went skydiving and I let her. Actually she's 25 so she didn't need my permission, but I like to pretend that I am still somewhat in control. Before this vacation, I might have let my fear paralyze me, but I've learned quite a bit; I have amazing daughters, but mostly I realized I need to let go and let God. So I did, but you can bet that I was praying for her Guardian Angel to be with her when she jumped out of the plane. Did I really just say that? Boy, I did grow in my faith that week.
"Casting all your anxiety on Him, because
He cares for you." (1 Peter 5:7)
Guest post by Shann Hall-LochmannVanBennekom
I am a disabled mother of three of the most incredible creatures on earth: Emily, Quinten, and Lydia, who have managed to turn a lifetime of having an ill mother into something positive. They are very aware of suffering and have dedicated themselves to serving others. They taught me to appreciate every good moment in life and to live to the fullest that God allows.

I'm married to a wonderful man,Christopher, who has stood by me for over 22 years of illness. I love to read and garden. I also enjoy writing, with elementary school readers ,my favorite audience.

I have done original storytelling at schools,summer recreation programs and churches.I have had essays published in the Rochester, NY newspapers, The Cypress Times, and have enjoyed writing at Faithwriters.