And when they [the Israelites] heard that the LORD was concerned about them
and had seen their misery, they bowed down and worshiped. Exodus 4:31 NIV
We are told countless time to worship the Lord. And I'd venture to say all of us have at one time or another. There are many ways and occasions to worship and praise His Name.
But we don't always worship Him when we should.
Oh, we're great at acknowledging His power when He has delivered us from a calamity, or when he has given us a blessing. When things look good, we are great at honoring our Heavenly Father. But things are not always like that in this fallen world.
The Lord promised us that our world would be full of trials, and like all his promises, He makes good on it. But we are not to restrict our worship to times of ease.
Look at the Israelites here in the first part of Exodus. They were under terrible oppression from Pharoah. They were worked mercilessly, and were miserable.
The Israelites groaned in their slavery and cried out, and their cry for help because of their slavery went up to God. Exodus 2:23
You should know that by the time Moses and Aaron approached the Israelites at the end of the fourth chapter, things had not changed. They were suffering as slaves, and were despairing.
Yet, all they needed to worship was the knowledge that the Lord knew of their suffering. Sure, he said he would alleviate it, but it had not yet come to pass.
How often do we wait until God has delivered to bow before Him in thanks? Are you one to worship God only once He has fulfilled His promises, or are you willing to do so with only the assurance that He will: at some point, in some way?
That is the kind of faith that pleases our Father. For faith after the fact isn't faith at all.
Now faith is being sure of what we hope for and certain of what we do not see. Hebrews 11:1
And God's Word is full of promises of His faithfulness. He will never leave nor forsake us. We can depend on Him.
So praise Him - and worship Him - in your storm. He will deliver you.
Traveling Rough Roads with God's Strength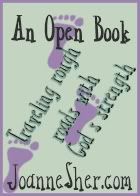 My Blog
FaithWriters Blog
Facebook
Twitter