Your kingdom come.
Your will be done
on earth as

it is

in heaven. Matthew 6:10 NKJV
Prayer is powerful - and God always hears when we petition Him. But He doesn't always answer - at least not the way we want Him to.
And this can be frustrating. Confusing. Aggravating. Discouraging. And a blessing.
Have you ever thanked the Lord for saying "no" to a heartfelt prayer? No? Well, maybe you should. Because His desires are are so very much better than your own. Because what He wants for you is so very much better than what you want for yourself.
What if the Lord had taken the Israelites straight to the Promised Land because of their prayers, instead of having them wander in the wilderness? They wouldn't have learned the lessons they did - and we wouldn't have a powerful, meaningful portion of the Old Testament. Those forty years may not have been their desire, but they were for their good.
What if Jesus had gone away when Peter asked him to leave in Luke 5:8? Who might have written 1 and 2 Peter? Brought thousands to Jesus? Visited and converted Cornelius? God ALWAYS knows what is best.
And what if God had said "yes" to His Son's petition that the cup be taken from him? If our Savior had not died on the cross for our sins? I think you know the devestating answer.
We pray selfishly. We pray for things that will help only in worldly ways. We pray for our will, rather than His. We pray to get out of our trials, when He knows we need them - to purge us of sin, to serve Him, to prepare us for what to come.
If we want to pray effectively, we need to pray in His will. His desires must be ours. We must be willing to experience trials - for they can be God's will for us. But no matter the trial, we know He is in it, and with us.
If His answer is no - embrace what He has for you, for it is His will, and for your good.
Thank You, Lord, for denying my selfish prayers, for giving me the wilderness when I ask for Egypt. Take away every desire of mine that is not yours. No trial is as painful as that of sin. Help me to embrace what You give me, whether I believe it is for my best or not. In Jesus' precious name I pray. Amen
Graphics courtesy of Christiansunite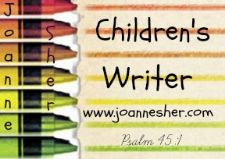 Blog
Facebook
Twitter